Top 5 ways to increase revenue and margins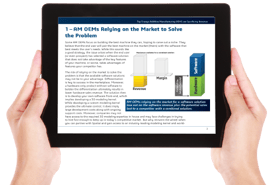 This eBook explores the various scenarious for Additive Manufacturing OEMS to offer a complete solution, and the impact each has on revnue and margins:
Supplying no software solution and relying on the market to solve the problem for the end user

Pointing end users to an approved third-party software vendor
Offering a white-label software solution along with their machine
Building a custom application based on an OEM platform
Creating an entirely custom software solution
While all of these approaches are valid, there are pitfalls to each. In all cases, partnering with Spatial, the leading vendor of 3D modeling software development toolkits, will give you access to robust solutions tested by millions of end users over the past 30 years, plus access to higher revenues and greater end customer satisfaction.
Read this eBook to learn more.