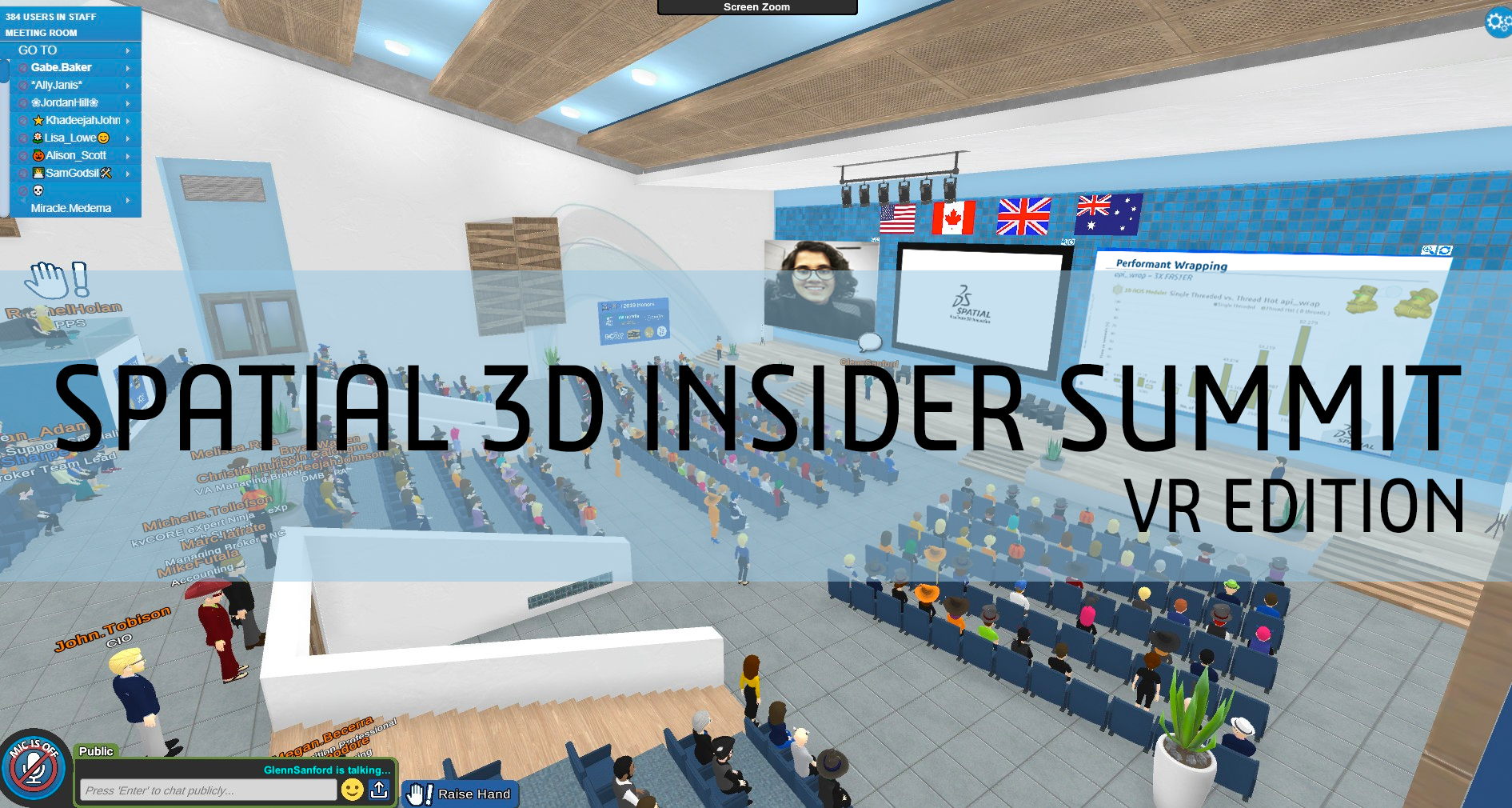 Register today!
About the Spatial 3D INSIDER SUMMIT - VR EDITION
This is an educational event that focuses on technical topics that will help you innovate out of the box. You will learn best practices, experience new capabilities in the software, and customize our software components to achieve your goals.
Discover what is new at Spatial, learn about the latest features, and gain insight about future product plans. Talk and work directly with Spatial technical experts! Share your requirements for success.
Date: 16 - 17 November 2020
Venue: LAVAL VIRTUAL WORLD, available worldwide.
Cost: Free - registration required.
Preliminary agenda:
DAY ONE - Monday 16 November 2020
Day 1: 8 a.m. – 12 p.m. CET and 4 p.m. - 8 p.m. CET - check hours in your time zone here.
7:30:8:00 Attendees arrive and network
8:00:8:15 Welcome Address
8:15-9:00 Spatial (business presentation)
9:00-9:30 Portfolio Overview Part I
9:30-10:00 Break
10:00-11:00 Portfolio Overview Part II
11:00-12:00 Happy hour
----------------------------------------------------------------------
3:30:4:00 Attendees arrive and network
4:00:4:15 Welcome Address
4:15-5:00 Spatial (business presentation)
5:00-5:30 Portfolio Overview Part I
5:30-6:00 Break
6:00-7:00 Portfolio Overview Part II
7:00-8:00 Happy hour + EVENT WITH LAVAL VIRTUAL
DAY TWO - Tuesday 17 November 2020
uDay 2: 8 a.m. – 12 p.m. CET and 4 p.m. - 8 p.m. CET
7:30:8:00 Attendees arrive and network
8:00:8:15 Welcome Address
8:15-9:00 Release Part I
9:00-9:30 Release Part II
9:30-10:00 Break
10:00-11:00 Future / Roadmap / Innovation
11:00-12:00 Technical one-on-one
----------------------------------------------------------------------
3:30:4:00 Attendees arrive and network
4:00:4:15 Welcome Address
4:15-5:00 Release Part I
5:00-5:30 Release Part I
5:30-6:00 Break
6:00-7:00 Future / Roadmap / Innovation
7:00-8:00 Technical one-on-one