JEAN-MARC GUILLARD
CHIEF EXECUTIVE OFFICER
Jean-Marc joined Spatial from Spatial's parent company, Dassault Systèmes. Jean-Marc is responsible for company strategy and all of Spatial's business operations, including sales, marketing, services, development and finance. He has 20 years of experience within Dassault Systèmes development, professional services and information systems organizations. Jean-Marc has held many senior-level R&D positions, including leading the development of the DS geometric modeler that is at the core of all DS PLM V5 solutions. As DS Director, Solutions & Services, Jean-Marc created a line of industry applications based on customer's best practices. The applications addressed the specialized needs of each industry served by Dassault Systèmes PLM solutions. Early in his career, Jean-Marc worked as a software engineer, developing surface algorithms and geometry operators for CATIA v4.

Jean-Marc has a Bachelor's and Master's degree in Numerical Analysis from Paris Sud 11 University and a PHD in Computer Science from Paris VI University.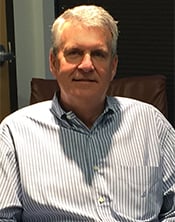 JOHN BENGER
CHIEF FINANCIAL OFFICER
John Benger joined Spatial in February 2016 as Chief Financial Officer and is responsible for providing strategic and financial leadership to the organization. As the CFO, John brings a broad range of financial and operational experience in both public and private technology companies.
John has previous experience with Spatial and Dassault Systèmes, serving earlier as a senior finance executive for Spatial, Dassault Systèmes Simulia and, Dassault Systèmes Americas Corporation; gaining additional experience at CoCreate and Data General. He has successfully managed business transformations, restructures and high growth businesses, both domestically and internationally.
John earned his Bachelor of Science from Bloomsburg University Pennsylvania, and a Masters of Business Administration from Southern New Hampshire University.

VIVEKAN IYENGAR
VICE PRESIDENT R&D
Vivekan Iyengar joined Spatial in 1999 and his expertise lies in product development, product management, and technical account management. Previously responsible for 3D InterOp product roadmap and delivery, Vivekan has been involved deeply with the new product additions to 3D InterOp including direct translators and 3D InterOp Graphical. Currently he oversees Spatial R&D for all products including roadmap, development, integration and product documentation.
Vivekan holds a Master of Science degree from Iowa State University.

FRéDéRIC JACQMIN
VICE PRESIDENT WORLDWIDE SALES BUSINESS DEVELOPMENT
Frédéric Jacqmin joined Dassault Systèmes Spatial in 2012 as Director of Sales for the EMEA region. Prior to his appointment at Spatial, Frédéric held several Sales and Management positions at Trimble navigation, supervising distribution networks and actively developing new businesses, as part of the Company diversification strategy. He started his career in a startup, pioneer in 3D Laser Scanning, as Vice-President of Sales.
Frédéric holds a Master's degree in Civil Engineering and Surveying from the ESTP, Paris.

JAMES GRAY
DIRECTOR OF CUSTOMER SUCCESS
James joined Spatial in 2003 and is currently responsible for all technical customer interaction across the sales cycle including pre-sales and post-sales support as well as consulting and oversees those teams located WW. His previous roles at Spatial include WW Pre-Sales Team Lead, Pre-Sales Engineer, Interoperability Developer Team Lead, Productivity Team Lead, ACIS Developer, and QA/Integration Engineer. Prior to joining Spatial, James worked for SAIC on contract work for the DoD.
James holds a BS in Computer Engineering from University of Central Florida. His hobbies include obstacle course racing, mountain biking, yard work, general tinkering, and playing with his kids.

CONNIE KING
DIRECTOR OF HUMAN RESOURCES
Connie King joined Spatial in 2001 as Director Human Resources. Prior to her appointment at Spatial, Connie managed benefits, recruiting, training & development, and facilities for Qualitative Marketing Software and Sagent Technology. Before joining the technology industry, she managed Human Resources and Business in the publishing industry.
Connie holds an M.B.A. from the University of Colorado and a B.S. from Western Kentucky University. She earned her SPHR certification from the Human Resources Certification Institute and is an active member of The Society for Human Resources Management (SHRM), The American Society for Training and Development (ASTD) and The Boulder Area Human Resources Association (BAHRA).